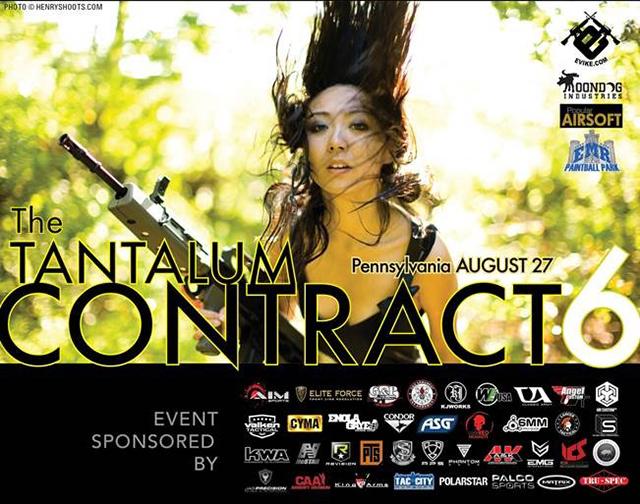 The Tantalum Contract is a MilSim game set in the shadowy world of Private Military Contractors in Africa. This game is for players who can role-play and that can handle more realistic wounding and kill rules––players who understand mission objectives go beyond simply getting 'moar kills'. If you have what it takes, then please read on...
Each Faction will be playing on behalf of one of three charities. Registered players will receive a complimentary raffle ticket with prizes provided by evike.com
PRICE
$40/pp
All tickets must be pre-purchased at Evike.com. No walk-on ticket purchase at the field. Deadline for refund August 20. Like a music concert or sporting event, there are no refunds for no-shows (your ticket purchase will be donated to the charities so you did a good).
http://www.evike.com/search/?search_in_ ... ct&x=0&y=0
50% Off for Active-Duty Heroes
Active-Duty military, law-enforcement and firefighters get $20 off admission with photo ID proof of active-duty status. Pre-Registration required. Contact Ian Conolly or Thomas MOONDOG DelMundo III on Facebook for validation.
ALL PLAYERS must be16yrs or older
CAMPING
Bunk houses and Camping Sites available. Reservations required. Contact EMR for details
http://emrpaintball.com/lodging/
PLAYER REQUIREMENTS
• 500fps w/.25g Limit for bolt-action sniper rifles (100ft safety distance)
• 400fps w/.25g Limit for all other guns
• ROF limit 30rps
• MidCap magazines recommended
• Box magazines are only allowed on realistic replicas of Squad Automatic Weapons systems (eg. M249, RPK, etc.)
• HiCap magazines may be used following Phridum's HiCap Rule
viewtopic.php?f=67&t=2239
• Full seal goggles ANSI Z87.1 rated with elastic retention (no shooting glasses or mesh goggles permitted)
• Face and Ear protection required of ALL PLAYERS:
-Under 18: Hard masks required (mesh mask or plastic)
- Over 18: Cloth or Hard masks required (balaclava, shemagh, bandana, neoprene, mesh, or plastic)
• Red Rag
• Hydration
• Food/Rations
• FRS/GMRS Radio
SPECIAL EQUIPMENT
Strongly recommended that you bring:
• Digital camera, videoCam, or camera equipped cell-phone
TEAMS
Go to the company websites (below) to learn about each team. Uniform requirements will be strictly enforced. Each team has its own secure planning group on Facebook. After you have received your wrist tag, please PM your team CO or Embed with the number to get access.
Angle Sino Security
Company website:
http://anglosinosecurity.blogspot.com/
Facebook:
https://www.facebook.com/groups/tantalum.ass/
Uniform: Black tops with any pants any color vest
Charity: Intrepid sea, air and space museum
G.R.D. Enterprises
Company website:
http://globalresourcedefense.blogspot.com/
Facebook:
https://www.facebook.com/groups/tantalum.grd/
Uniform: Brown/desert camo including UCP/ACU, ABU, and MultiCam. No black vests.
Charity: Team Rubicon
K.A.S.H.
Company website:
http://kievafrikaner.blogspot.com/
Facebook:
https://www.facebook.com/groups/tantalum.kash/
Uniform: Green or Sky (blue) camo. No black vests.
Charity: Wildwood School for autism and special needs
REGISTRATION AND EVENT INFO ON FACEBOOK:
https://www.facebook.com/events/1571086213186951
::