I'm in Phridum's camp as far as preferring a classic 'bladed' stance. I think Magpull's extended arm stance may be a bit more 'instinctual' for beginner shooters like point shooting. But I do not find extending my weak arm comfortable nor less fatiguing than tucking my elbows into my chest. But that's another discussion.
I thought Magpull's last sentence in reference to sword grips a little bit off, at least from my experience in sport fencing (which is by no means comprehensive). Epee's have more point control than a rapier because Epee's are shorter and lighter. And a modern 'anatomical' grip does not give the fencer speed per se, it gives him leverage (due to the shape fitting into the spaces of a closed fist).
But I can kind of buy the overall statement. The grip design of both rapiers and classical epees are essentially the same but how you held them was quite different. A rapier was held like a VFG, more vertically with the elbow bent (to slash and thrust) whilst epees were held more like the AFG, arm extended. This was because an epee was shorter than a rapier, it required the fencer to fight from an extended arm stance to keep a rapier armed opponent at bay.
Rapier Grip ("Italian style")
Sport Epee grip ("French style")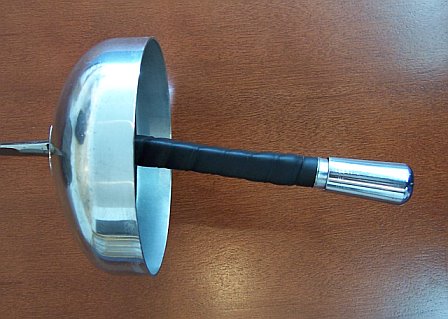 Modern anatomical grip designed to clamp into a closed fist: