I am sure most of you have read about this cool product somewhere in the mil/le blogosphere as they made their rounds over the last few months.
APALS® were designed by military operators searching for a low cost, ultra reliable, long lasting combat identifier.
- Can be seen from up to 1/4 mile.
- Runtime: 35+ hours.
- Modes: Fast Strobe / Slow Strobe / Steady On / Off
- Heavy Duty Adhesive Back holds tight to any surface wet or dry
- Waterproof / Dustproof / Shockproof
Sound amazing, right? These would be great for night games as kill markers basically replacing the red glow stick which often replaces the red rag for low light games, and they strobe! Seems like a pretty low cost overall - 10 for $44 or $4.40 each, but I didn't want to pay that much.
So I found this -
http://www.amazon.com/gp/product/B004Z8 ... 03_s00_i02
These are Brite Strike LSR-4, Replacement Light Strips for APALS-AIR and all Brite Strike Gloves, 4-Pack for only $9.95 or around $2.50 each and they do pretty much same thing but at cheaper price.
They come individually wrapped in plastic.
As I said before these function the same as the Mil APALS but lack some of the special features, no waterproofing and no adhesive back. I dont need those anyway.
Out of the package they need a few simple mods.
Just add a velcro back and cover up the reflective front with something but cut a hole for the LED, here I used gaffers tape for the front. Also if want them to be adhesive just us double sided tape on the back.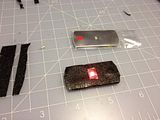 If you dont want to waste the left over loop tape you can use that to cover the front. Now you velcro something on top of that.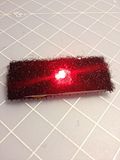 On my APC - and yes I will be playing DEA for Miami vice of the dead.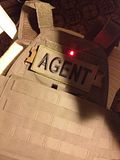 2 strobes for max visibility>