I copied this over from my review on the airsoft sniper forum, hope you enjoy!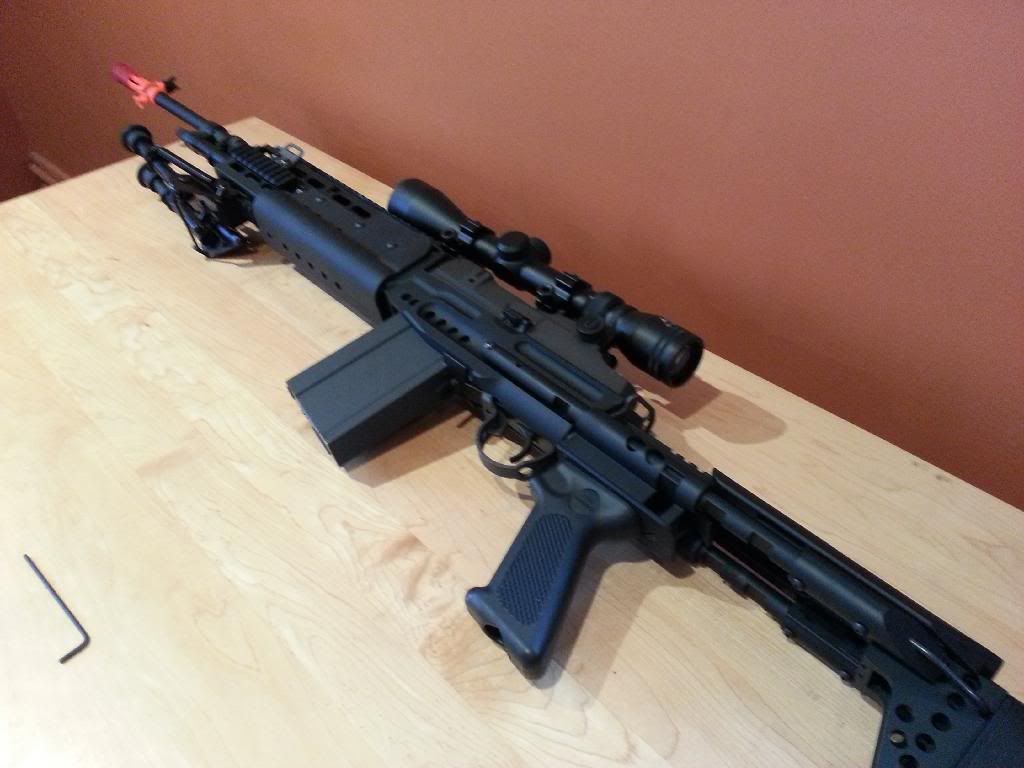 Introduction
This will be a comprehensive review of the tried and true g&g m14 ebr-l.
I got this beast back and June, and i've been putting it through some heavy usage ever since. I've put about 10,000 rounds through it (two bottles of 5000 Elite Force .28s) and I have had absolutely no problems whatsoever.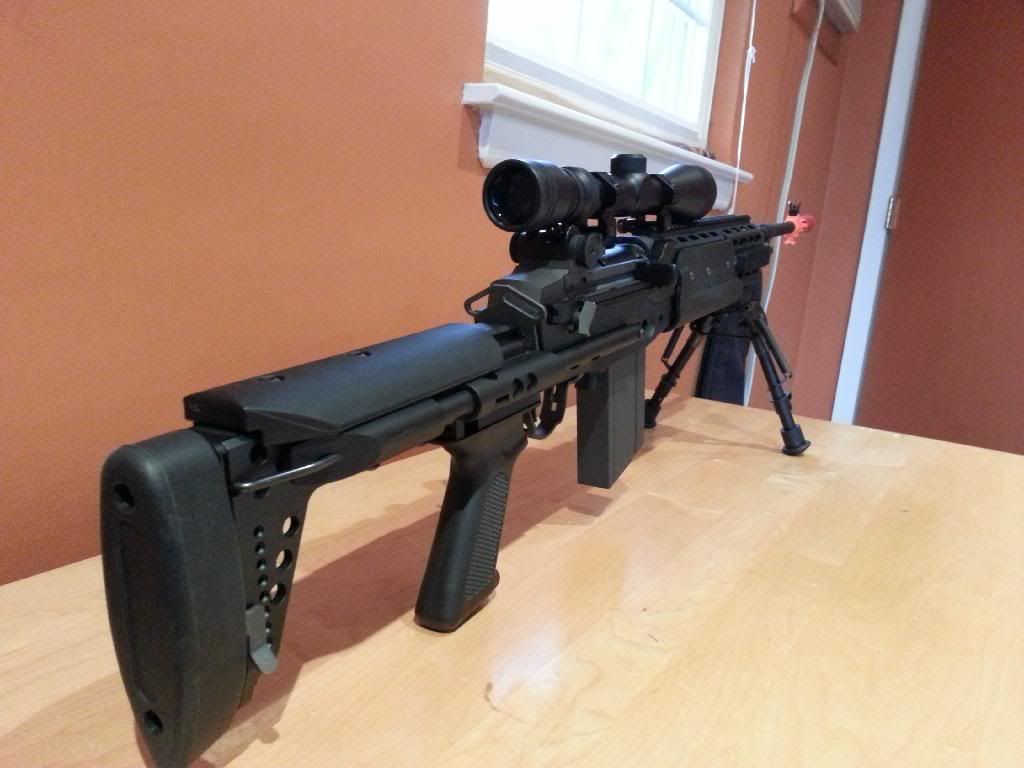 Real Steal History
G&G based the m14 hba-l on the real steal M39 Enhanced Marksman Rifle. This rifle was issued to the USMC to serve as a Designated Marksmen Rifle, chambering the 7.62x51mm NATO round. It has been in service since 2008, however, it is slowly being phased out by the m110.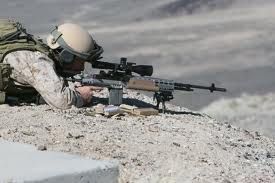 Externals
The first thing you notice when you pick this thing up is how damn heavy it is. Weighing in at roughly 10 lbs, and being extremely front heavy, I would definitely not recommend this to younger airsofters.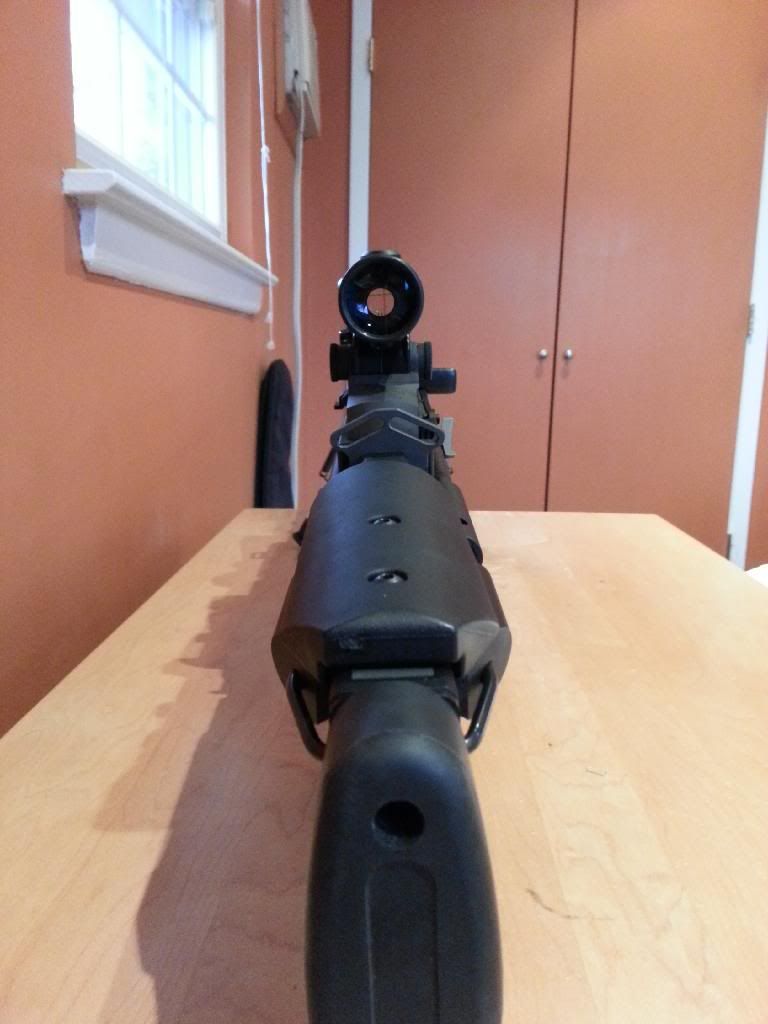 The build quality is absolutely exquisite. The gun is made out of cnc machined aluminum and a high quality polymer. The only polymer parts are the cheek rest, the pistol grip, the long vibrant orange flash hider, and the hand guard. This gun is incredibly solid. It doesn't rattle or wobble at all.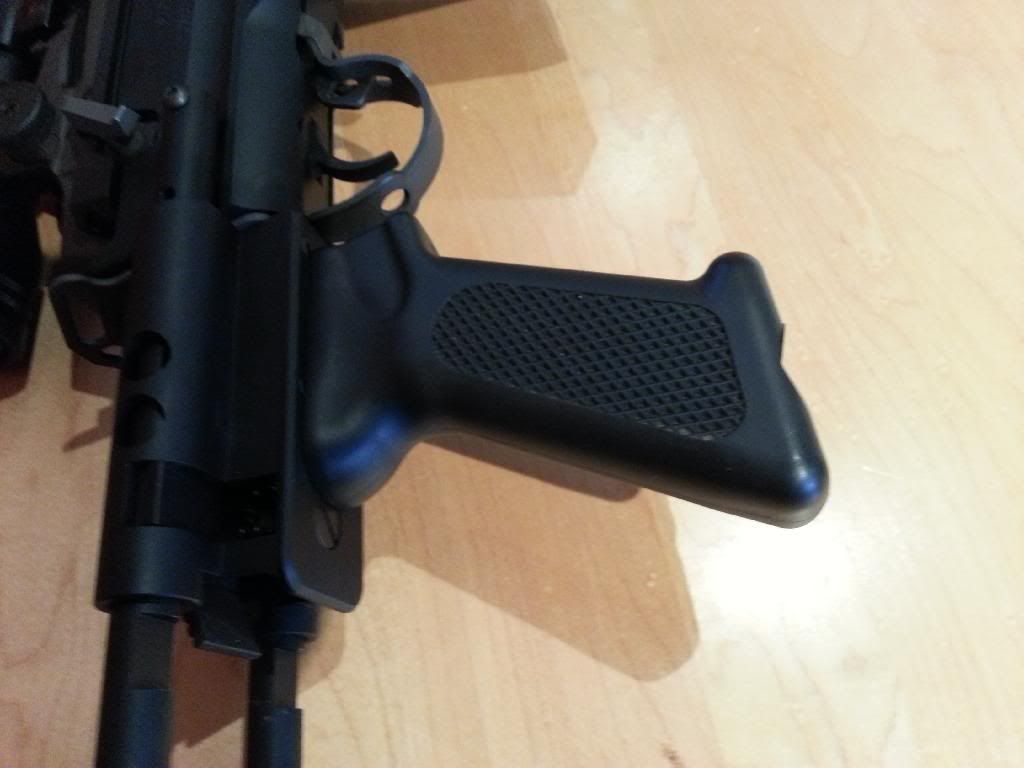 Another thing to note is the quality of the pistol grip. G&G payed very close attention to this grip. They realized that it could be thin because the motor isn't housed their like your common m4. It is also very ergonomic and comfortable for snipers. After all my time spent with it, the forgrip is still sturdy as opposed to other ebrs where the grip would weaken due to the heavy weight.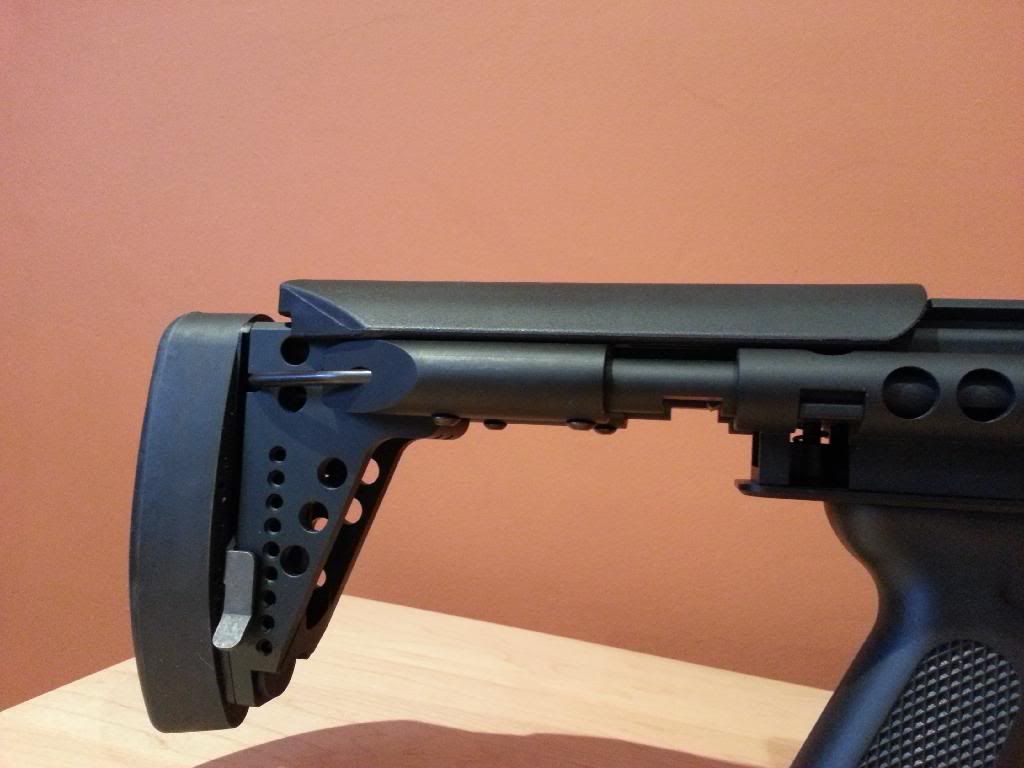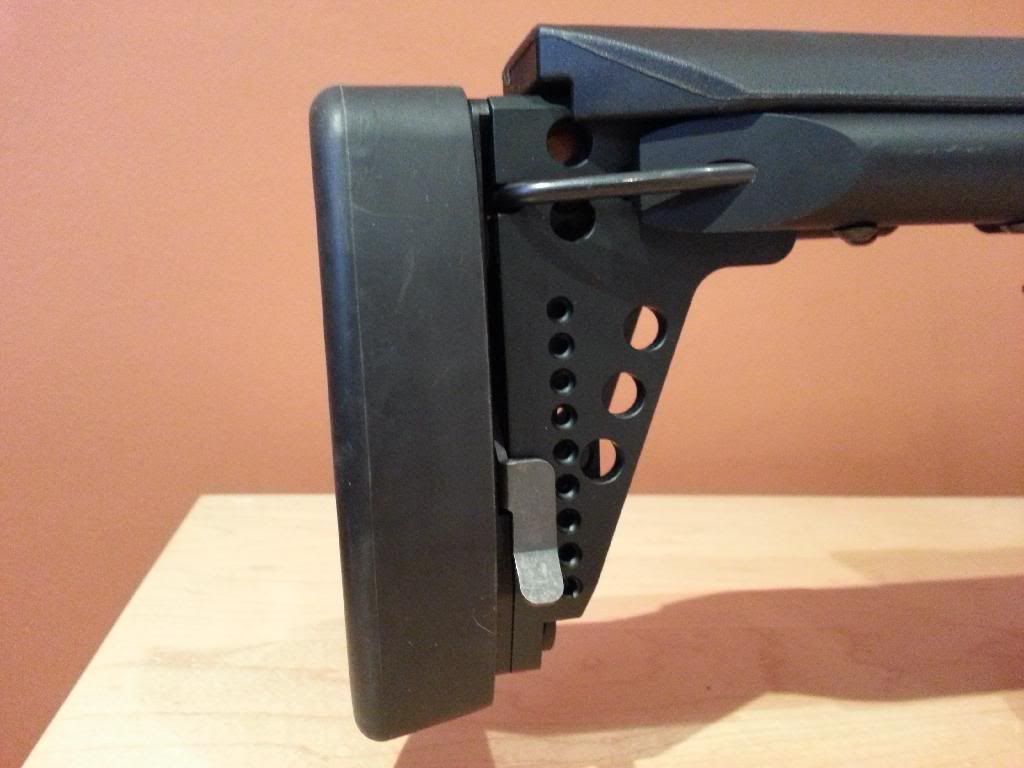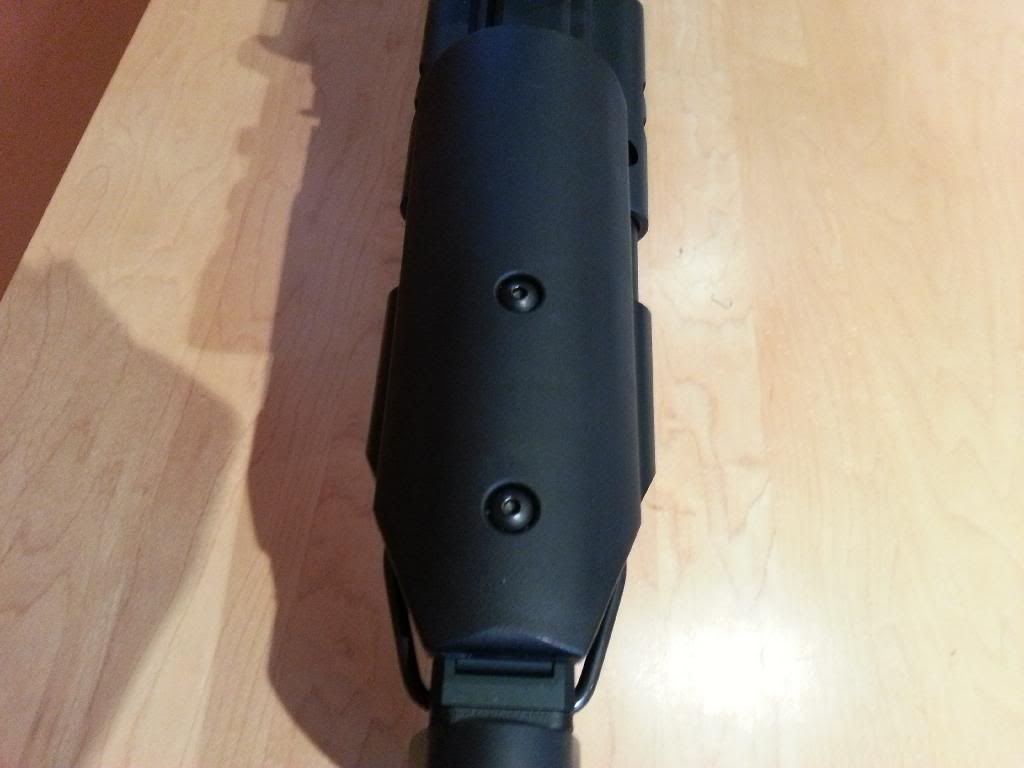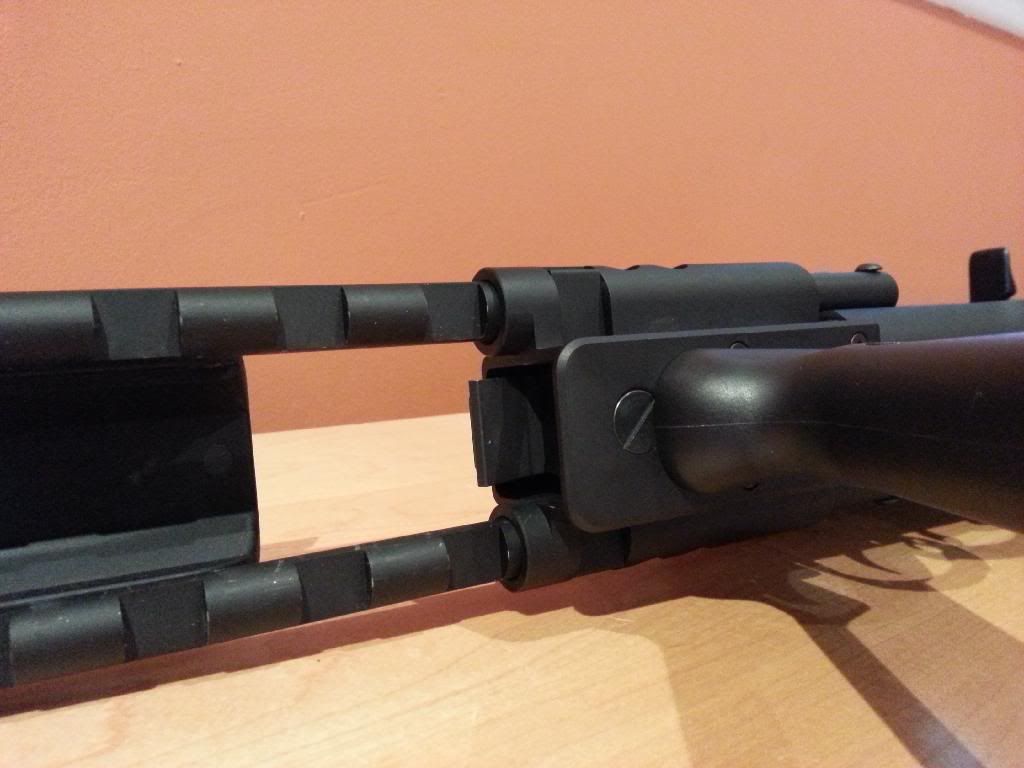 The stock is fully adjustable extendable to 6 positions, you can adjust it by pushing down on a tab and pulling in or out. The cheek riser extends to 9 positions by removing a pin and lifting a lever. The butt pad has a very nice rubberized texture, which makes it nice to shoulder. The stock is very solid and comfortable overall.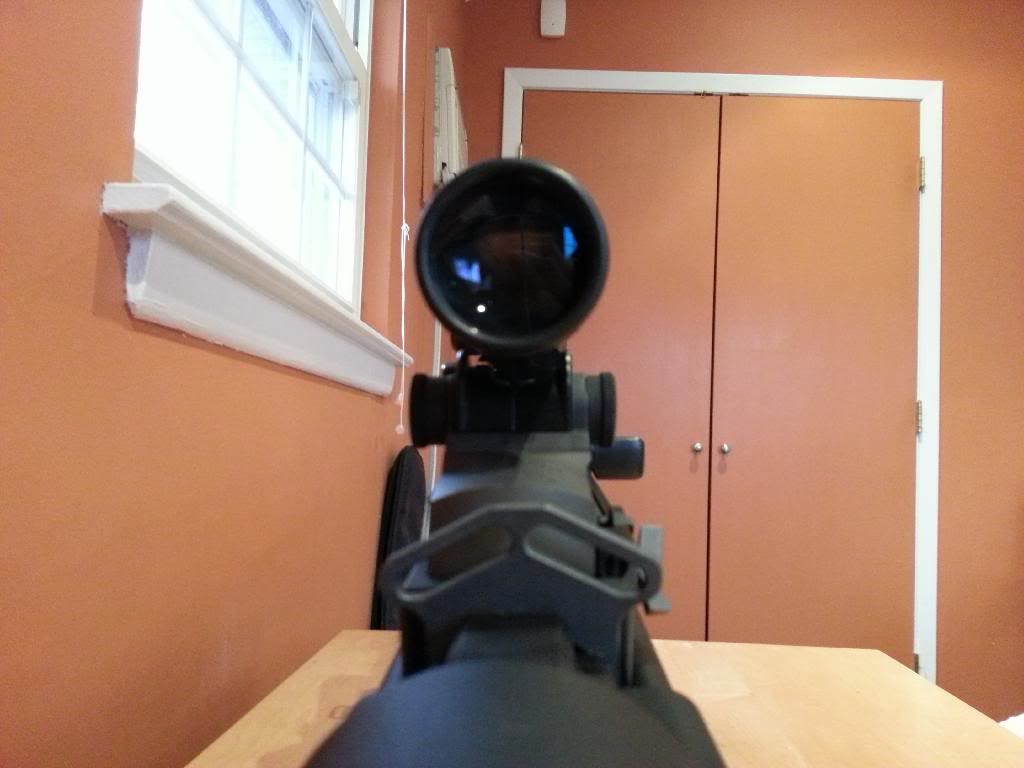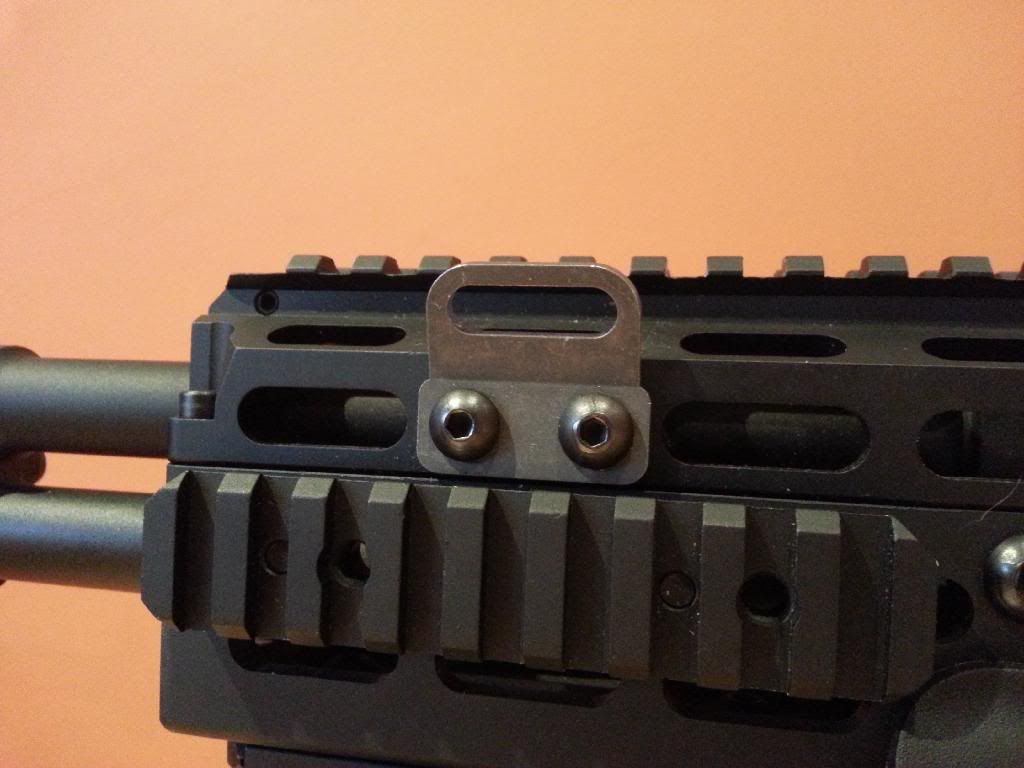 There are 2 rear sling attachment points for righties and lefties. The front sling point can be moved to either side by removing 2 hex screws. I would highly recommend investing in a hex screw/allen wrench set.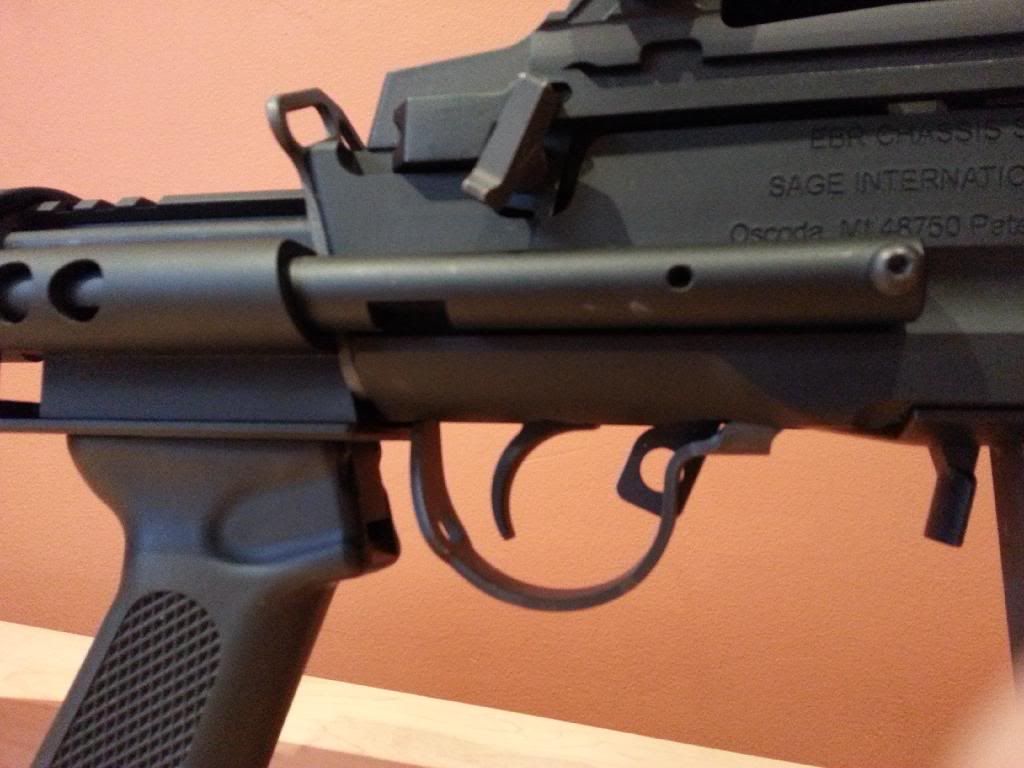 This gun fires in both semi and fully automatic. I prefer to use semi to keep it more realistic. The safety is located in the front of the trigger guard. Push it out to begin firing.
The charging handle can be pulled back to reveal the aug type hop up unit that is known to be used by G&G in their m14s. Push down on the bolt catch on the opposite side of the receiver to catch the bolt. When you push up on the bolt catch, it lets loose a terrifying clank of heavy metal. This charging handle is easily the most realistic one i've ever heard.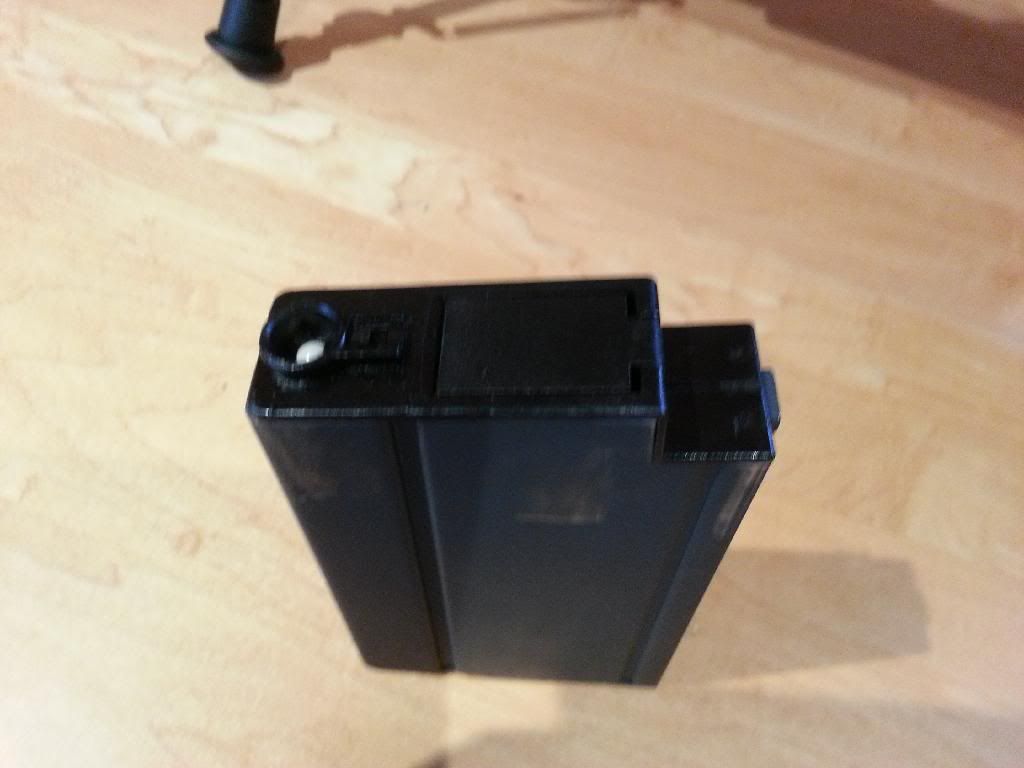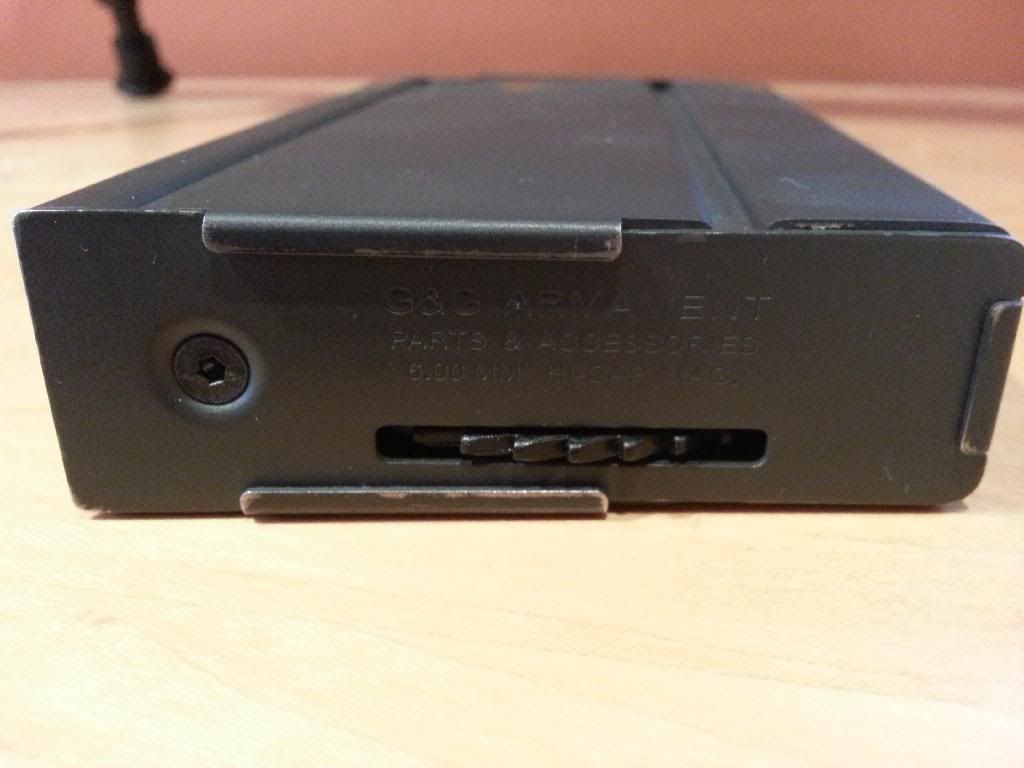 The magazine included is a metal 470rd hi-cap. It is a very high quality mag, and I haven't found any flaws to it yet other than the fact that the paint starts to wear off from abrasion. The mag release is located right in front of the trigger guard.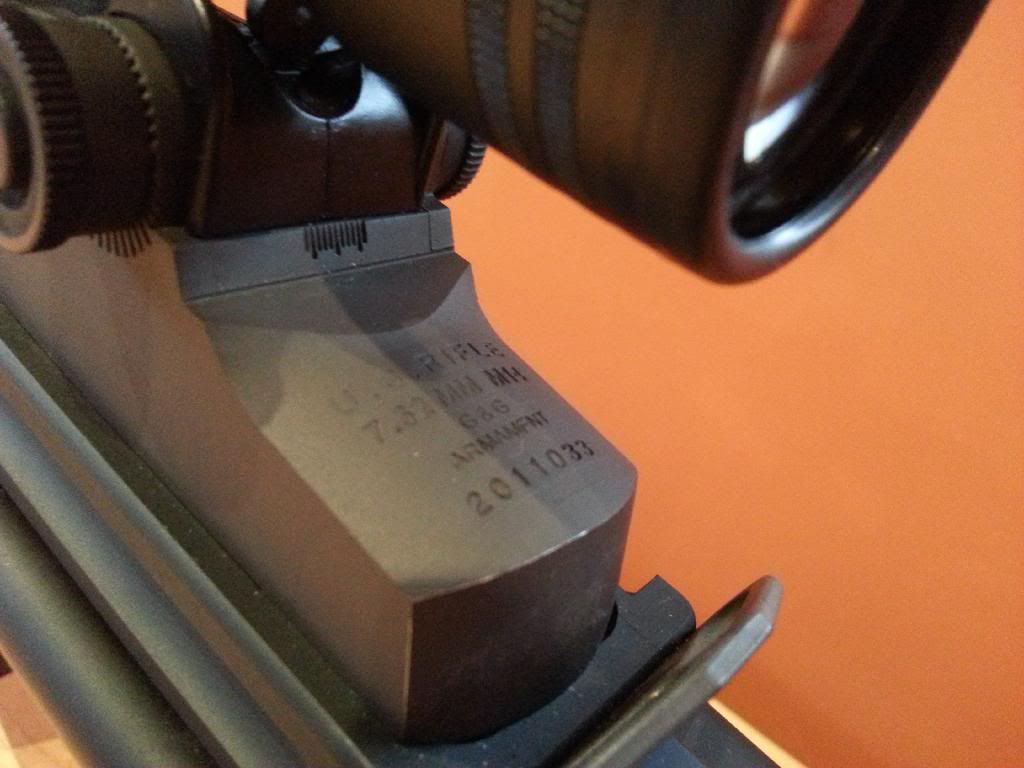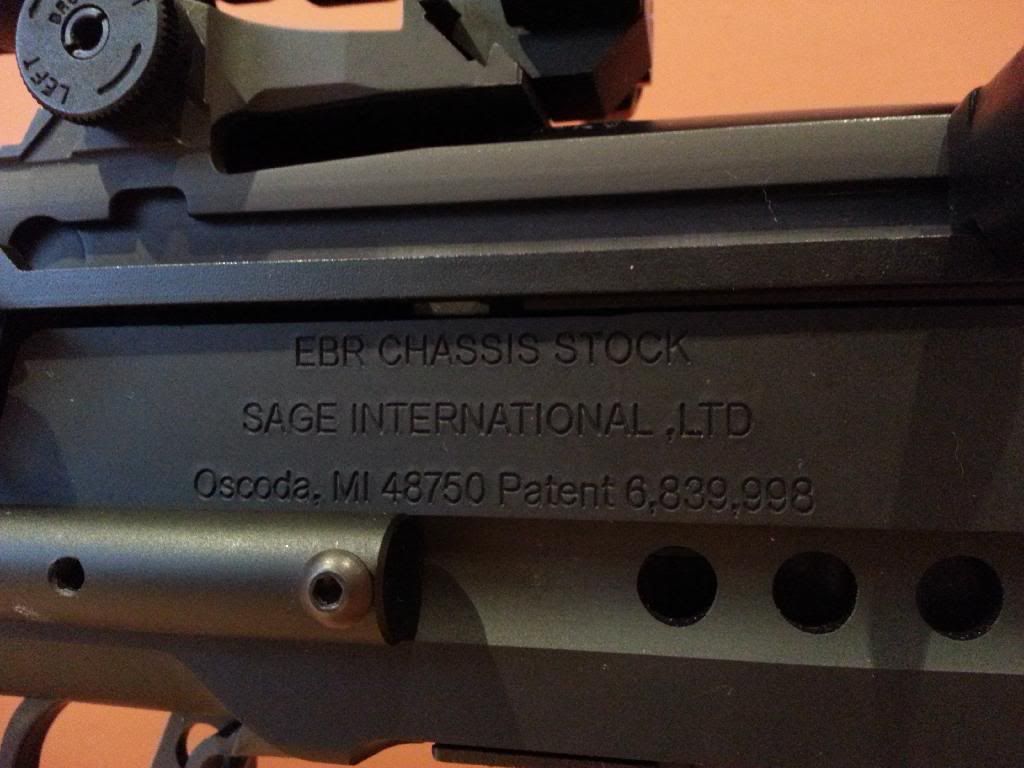 This rifle has trademarks engraved behind the rear sight and on the right upper receiver.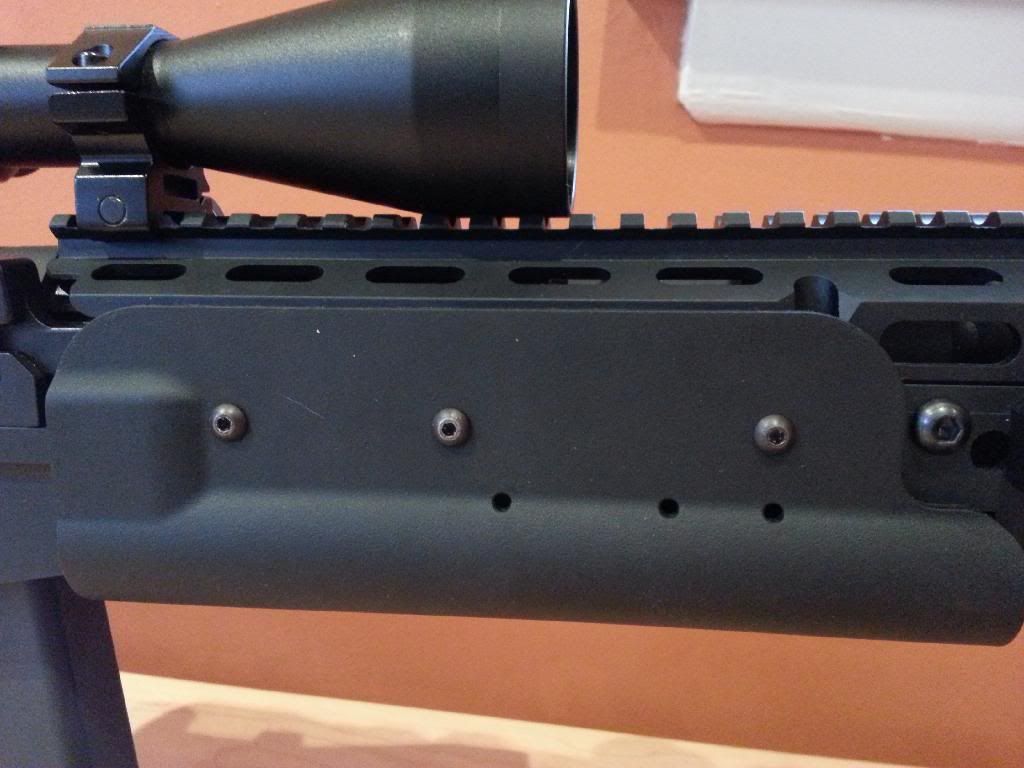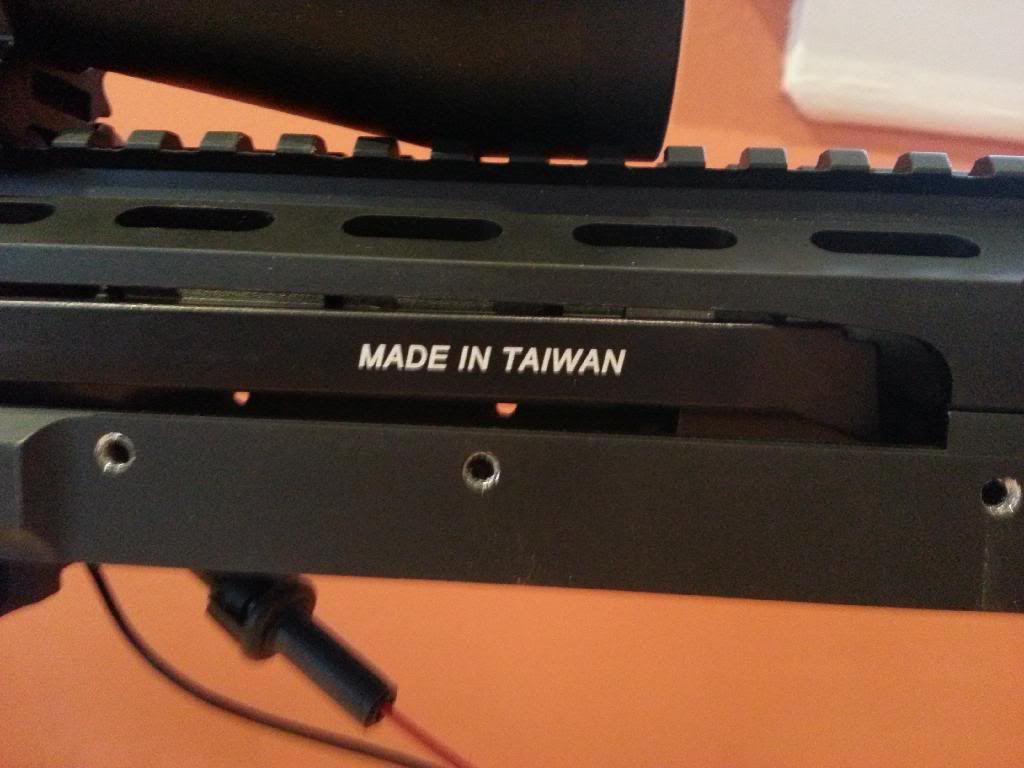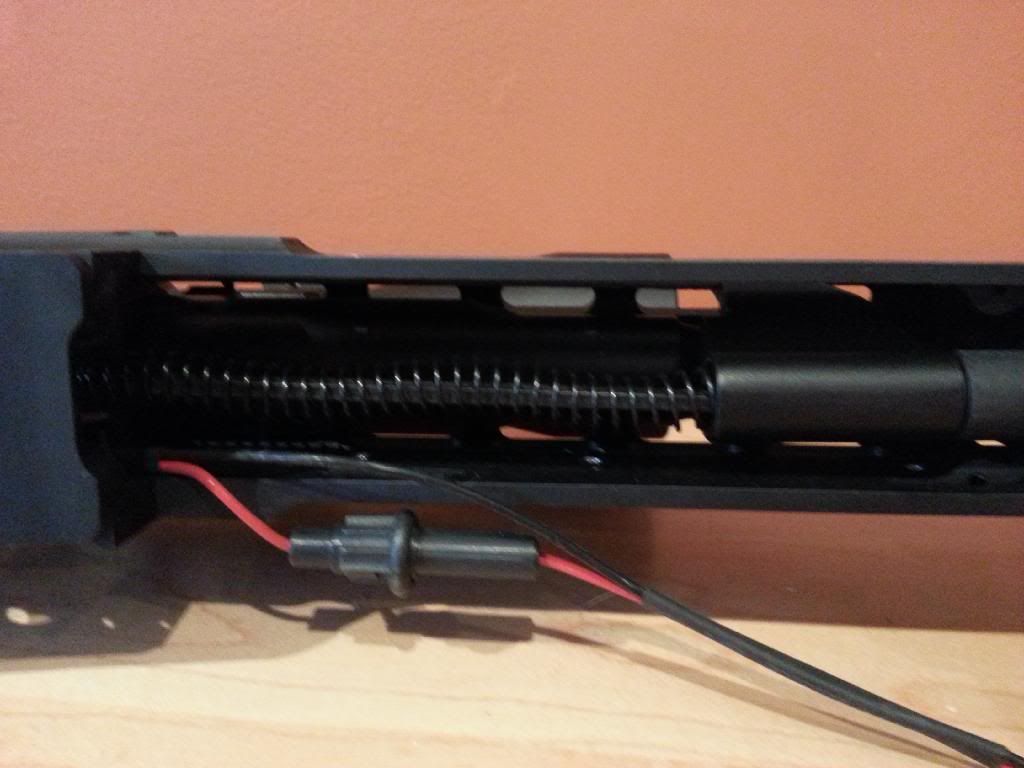 The polymer handguard is held in place by 6 hex screws. It can be a pain to get to the small battery compartment this way, but at least you know the battery isn't going anywhere. The wiring can get in the way of the charging handle spring, but if you organize the wires correctly, this should't be an issue.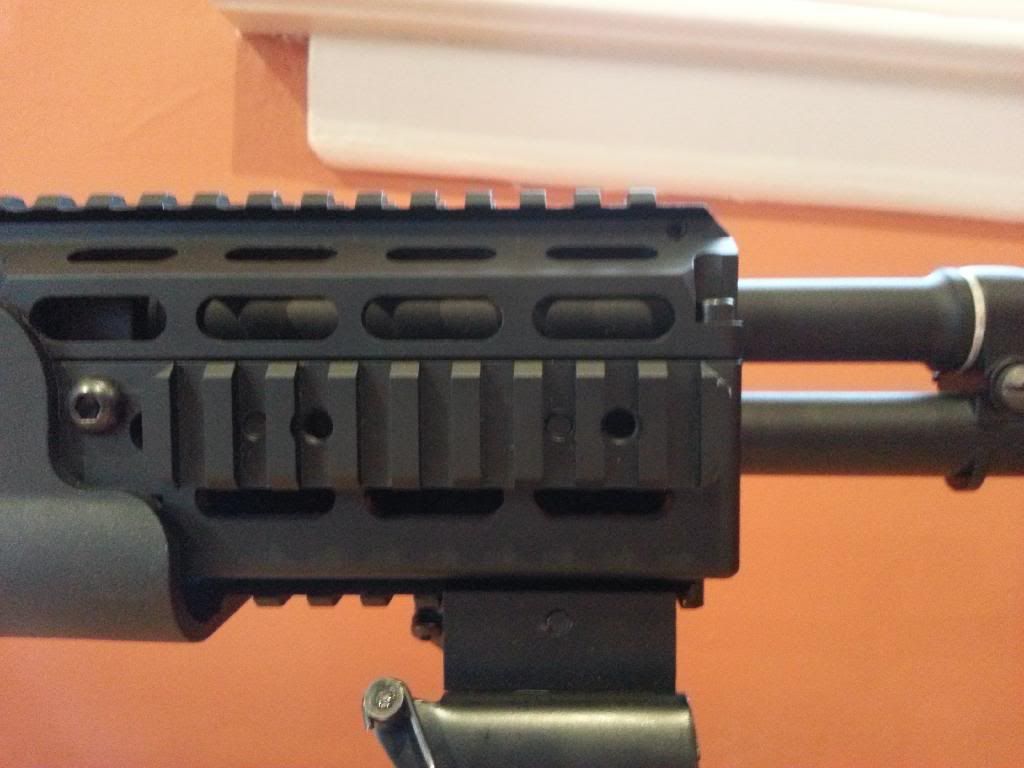 The cnc machined aluminum rails are all over this rifle. Their is a monolithic upper rail (and a bit of rail across the ejection port for the rear scope ring), side rails and a bottom rail. There is even a rail behind the rear sling points (which is a pretty cool place for a scope cam mount
The iron sights are your standard m14 type. they are clear and good for quick taget acquisition, however, I would recommend a scope because this rifle is best suited to be a DMR.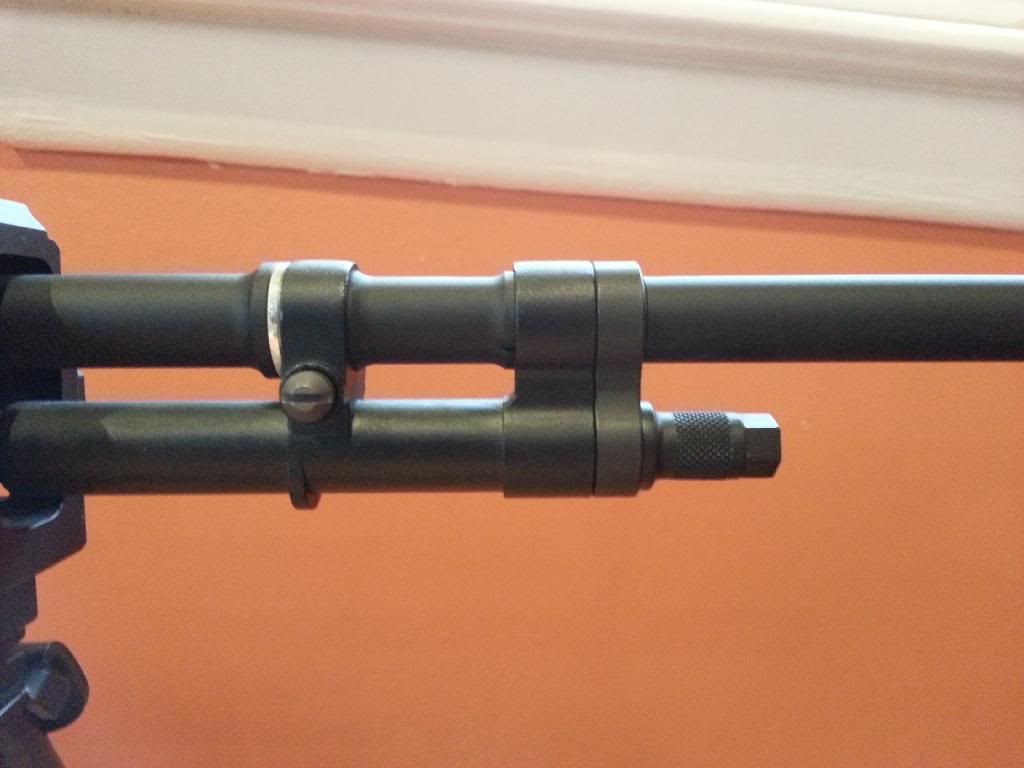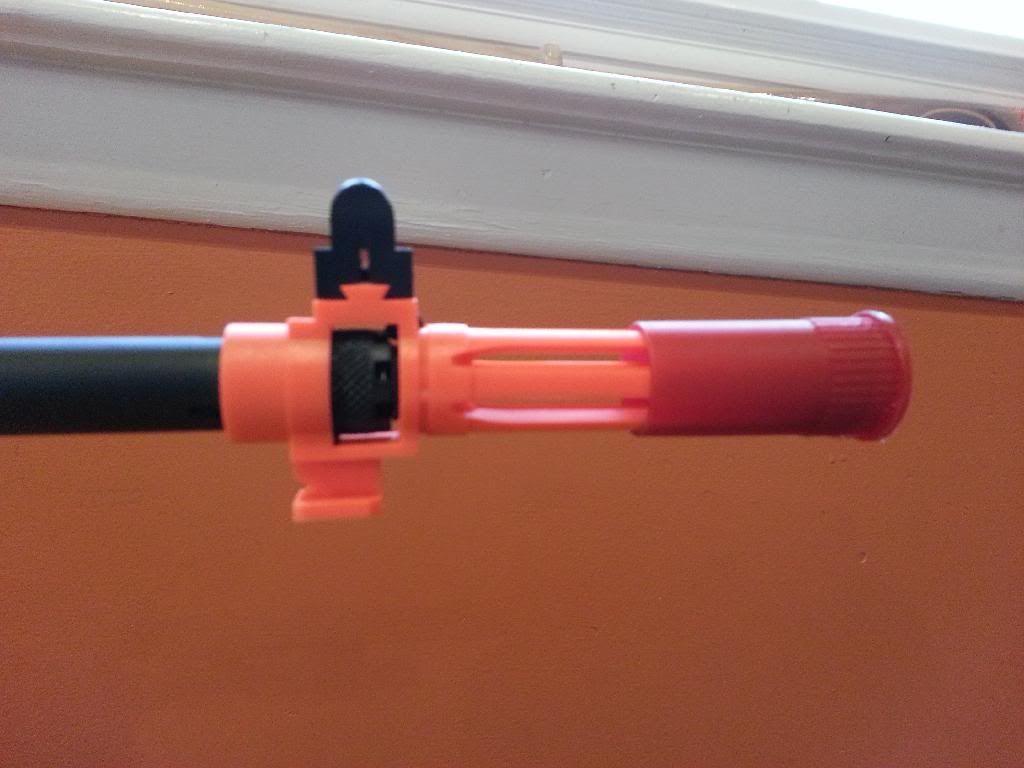 The outer barrel leads to the craptastic orange flash hider. This thing is huge and crapstic,by far the worst part of this rifle, however it is a legal requirement so I put up with it.
Internals
(sorry for the lack of pictures, but i don't want to take a part my rifle yet. I'm into the whole "don't fix it unless its broken" ideal.)
The inner barrel is an ideal length of 509mm.
The hop up unit is an aug type. It is a very, very strong unit, both structurally and performance wise. It was lifting .20s so I would recommend at least .28s The barrel and hop up bucking are compatible with any aeg barrel and bucking.
The gearbox is a beefy hybrid version 7.
Part compatibility list (thanks to Nox on Spartan Assault.)
Gears- V2/3
Anti-Reversal Latch- V2/3
Spring Guide- V3
Piston- V2/3
Piston Head- V2/3
Cylinder- V2/3
Cylinder Head- Proprietary
Air Nozzle- AUG
Tappet Plate- Proprietary
Motor- Short
Bushings- 7mm
Selector Plate- Proprietary
Hop-up Unit- AUG
Overall, the internal parts are some of the highest quality parts you will find on a stock rifle. They really show their value when they perform.
Performance
This rifle fires right under 400 fps right out of the box.
Roughly an average of 393.2 fps after the spring settled (chrono at local field strike force sports.) The consistency is also quite amazing. The fps deviance was never more than 7+/-
Its raining today, so pics of performance will come later, however, I can say that I was consistently hitting a torso width tree approximately 75 yds away.
the maximum effective range would have to be at least 85 yds.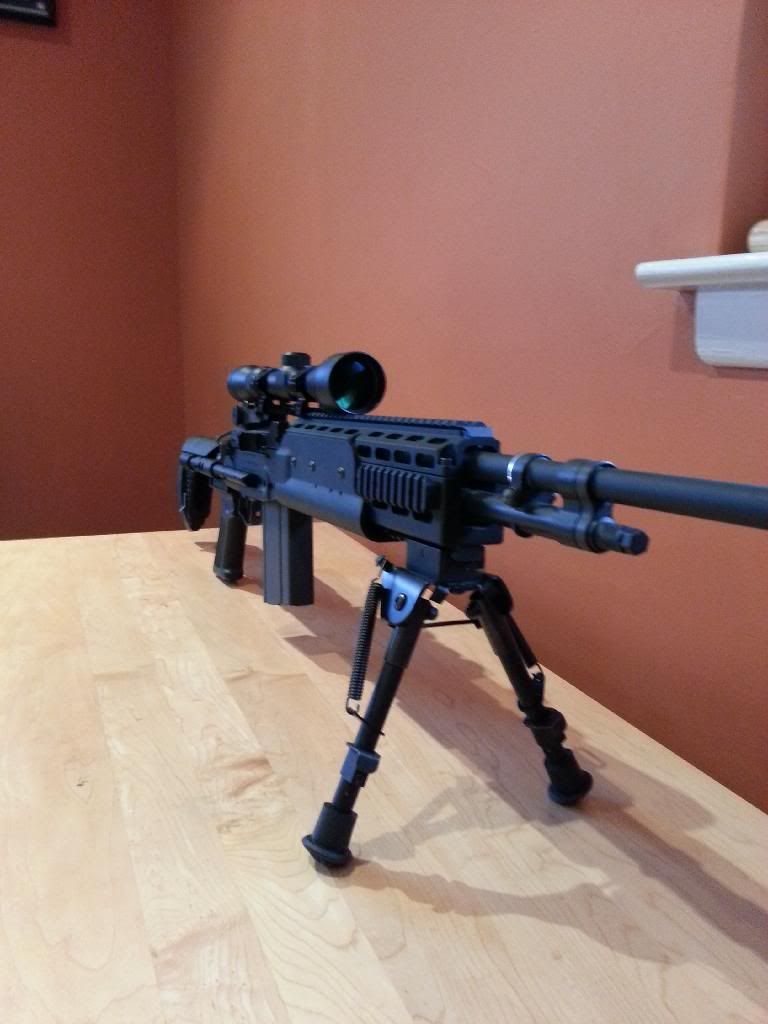 Final Thoughts
Pros:
-Realistic weight
-full metal (cnc)
-high quality polymer
-no wobble
-high quality internals
-precision accuracy
-outranges everyone
-badass look
-turns heads on the field
-quiet for an AEG
-pretty decent ROF for a DMR, however, I only use Semi for realism.
Cons:
-realistic weight
-crapstic orange tip
-price
-when I play backyard wars, its me vs everyone.
10/10 externals
10/10 internals
10/10 performance
9/10 price
9.75/10 Overall
Not only is this rifle a work of art, it performs better than any other stock weapon that i've seen. This rifle will easily be one of the farthest shooting rifles on the field. I can't think of a better gun to fill the DMR role. If you are willing to fork over the $480, i would pull the trigger and buy one.